Crunchyroll has announced guests from "To Your Eternity" and "Black Clover" for their upcoming Virtual Crunchyroll Expo alongside their already exciting slate which featured voice actors behind the beloved isekai series, The Rising of the Shield Hero, Haikyuu and popular band, Burnout Syndromes (Haikyuu, Dr. Stone).
The Virtual Crunchyroll Expo which will take place at the New Crunchy City in August will be featuring voice actors and creative staff from To Your Eternity and  Black Clover.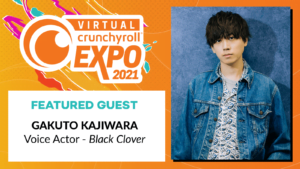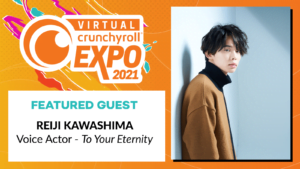 The recently announced slate of guests for Crunchyroll Expo include:
Ayataka Tanemura, one of the Directors for Black Clover. Tanemura has also worked on Kill la Kill, Devilman Crybaby, and Naruto Shippuden alongside many other well-known projects.

Gakuto Kajiwara, the voice behind Asta from Black Clover. Kajiwara also voiced Shinra Kusakabe from Fire Force, Ake from The Rising of the Shield Hero, and will be playing the role of Hitohito in the upcoming TV anime Komi-san Can't Communicate.

Reiji Kawashima, who voices the main character Fushi from To Your Eternity. Reiji is a relatively new voice actor in the industry and has also worked on Shadow House and Ekimemo! -Station Memories.

Takeshi Takadera, the sound director for To Your Eternity. Takadera has been in the anime industry for over 25 years and has worked on some of the high-profile projects of recent times such as Yuru Camp, Yowamushi Pedal, and My Senpai is Annoying.
The previously announced guests include voice actors; Kaito Ishikawa (Haikyuu, The Rising of the Shield Hero), Rina Hidaka (The Rising of the Shield Hero, Strike the Blood), and Asami Seto (Anohana, Jujutsu Kaisen, The Rising of the Shield Hero) alongside music bands Burnout Syndromes (Haikyuu, Dr. Stone), 7 Billion Dots (Boruto), Rhythmic Toy World (Yowamushi Pedal Glory Line), and Magic of Life (Yowamushi Pedal Grande Road).
Crunchyroll will be announcing some more guests during its Crunchyroll industry panel at Anime Expo Lite, the panel will take place on Saturday, July 3 at 12:15 PM PDT.
The Virtual Crunchyroll Expo will be streaming free from August 5-7 only on expo.crunchyroll.com. You can register for free on their website.